Most of your forays into Great Smoky Mountains National Park will happen by car, driving certain roads purely for their stunning scenic beauty, and also to get to various places to park and immediately immerse into nature, whether taking a trail or hitting a picnic site or other attraction. This guide will help you navigate those roads.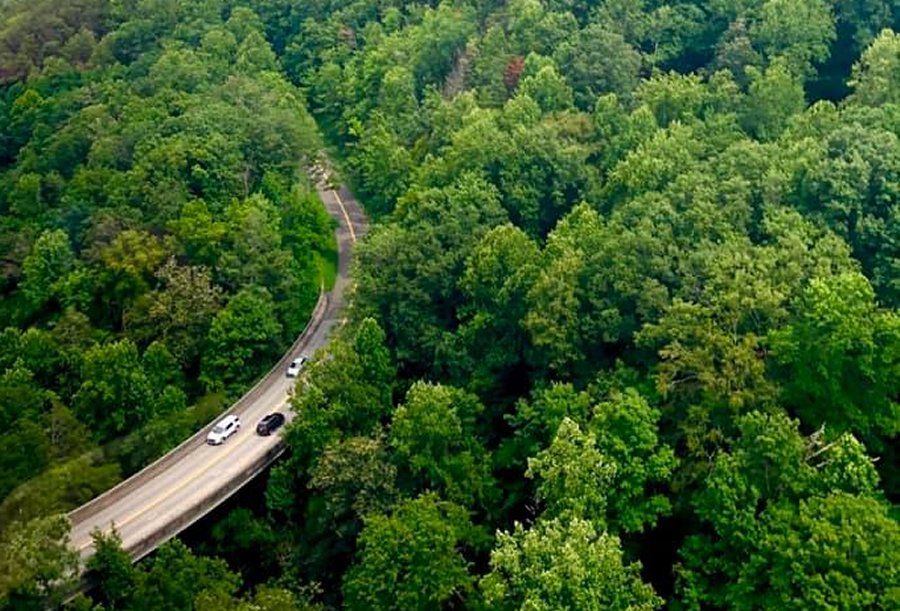 Great Smoky Mountains National Park is half a million acres in size, straddling the states of Tennessee and North Carolina (with the majority of access and attractions on the TN side). It has over 800 miles of trails and almost 3,000 miles of flowing waters. Open year-round and with no admission fee, the park also received 14 million visitors in 2021 – so if you want to avoid stepping on toes, it pays to get a little oriented in advance to the best ways to get around.
Roadways
Part of where you drive in and around the national park will obviously depend on the area you're making for. Be sure to check out our Guide to Special Areas of the national park to plan your itineraries for daily excursions from the cabin.
And on that theme, see our descriptions of the many different cabin resorts in the area, to help you choose a setting convenient to your target destinations during your visit (the resort orientations are a work in progress as of this writing).
See our Guide to Scenic Driving in the National Park for some pointers to important routes, as well as our useful overview of Getting Around the Smoky Mountains – and the indispensable Shortcuts and Back Roads in the Gatlinburg and Pigeon Forge area.
From Pigeon Forge you can travel comfortably to the national park without going through Gatlinburg by taking Wears Valley Road (Hwy 321) to Townsend and thence into the park in the Cades Cove area (and closely bypassing the Tremont area). Or you can stop at Wears Valley and cut south to the park entrance and on to Metcalf Bottoms (and  Elkmont).
Alternately, from Hwy 321 you can connect up at Wears Valley with Foothills Parkway and run west, bypassing Townsend and taking a wider loop around the park that also offers stunning scenic views of larger landscapes, with some great overlooks, and all on an easy highway. You can stay on Foothills all the way to the southwest of the park, at Look Rock – which is a place to consider exploring
At the end of Foothills Parkway (or actually, where it begins), at Chilhowee, you're in different country, close to North Carolina, but you have to drive the Tail of the Dragon to get there. If you want to explore more, you can journey on south of the national park on the North Carolina side. Eventually at Cherokee you connect with US 441 and you can head north through the park across Newfound Gap, stopping at Sugarlands Visitor Center (thence heading west through the park on over to Cades Cove), and jog on into Gatlinburg.
From Pigeon Forge also, you can navigate to the eastern end of the park, around the Cosby and Greenbrier areas, for a somewhat quieter and less visited experience that features a lot of old growth forest and some purely magical beauty.
You can make similar journeys from Gatlinburg, heading to Cades Cove from Sugarlands Visitor Center, along the incredibly scenic Little River Road, passing numerous scenic attractions. At Metcalf Bottoms you can cut up to Wears Valley and join the Pigeon Forge itineraries, or continue on toward Townsend, cutting down to Cades Cove. From the Cove, by the way, you can take the scenic Rich Mountain Road over to Townsend without going back out through the Cades Cove Loop Road.
You could spend some time just driving these roads, and in the fall season as the leaves of 100 different species of tree famously turn color, it would feel like a dream (check our guide to Fall Scenic Drives). If you have the family pet (largely not allowed in the park except a few places), or young children or physically challenged people, you can still enjoy the beauty of the park from the scenic roads, as well as the many sights and places made accessible by rangers without venturing from your vehicle – see our guide to Easy Outdoor Adventures.
There is so much to see and do in the park and its surroundings, that it takes time to learn it all. We try to help with our guides and overviews. A map and marker are your friends in this orienteering adventure. Don't rely on GPS in the mountains, and watch for occasional road closures. Have fun.
Park Features
For a great overview of the best features and areas of the park, see our Guide to Great Smoky Mountains National Park. And browse our Collection of Guides for detailed information on many of the most significant places in the park, including: hiking trails and easy walking trails; special areas selected by park rangers as both accessible and highly scenic; the many waterfalls in the park; and other magical sights and places.
Also check out our recent overview and roundup of much of this useful information, along with links to more detail, here in the blog: Guide to Great Smoky Mountains National Park. And please do take note in that Guide of the tips from rangers on wilderness etiquette, and how to deal with wildlife and flowing water hazards. Fourteen million visitors can damage even this large an area if they are not respectful.
TIP: Also see our Insider's Visual Guide to the National Park – and with an abundance of different cabins close to the park to choose from, check out our tips on How to Find an Affordable Gatlinburg Cabin, How to Find a Gatlinburg Cabin With Spectacular Views and How to Find a Secluded Gatlinburg Cabin.