Most people only have a few days to explore the lifetime's worth of things to do and see in Great Smoky Mountains National Park, and Gatlinburg and the surrounding area, so here are the hot spots and highlights of the national park to save you time and point you to the best.
The most visited national park in the United States is Great Smoky Mountains National Park, with the bustling town of Gatlinburg serving as its principal gateway. The national park is recognized internationally as a unique biosphere, and is home to over 100 species of trees, some in old-growth forests, as well as a vast array of wildflowers, wildlife, and scenic attractions.
With more than 2,000 miles of streams and flowing waters, including many magnificent waterfalls, the park offers abundant fishing and rafting opportunities. The more than 800 miles of hiking trails afford access to achingly beautiful mountain vistas and natural scenic views, while practically every drive in the park and surrounding area constitutes a lovely scenic drive in its own right.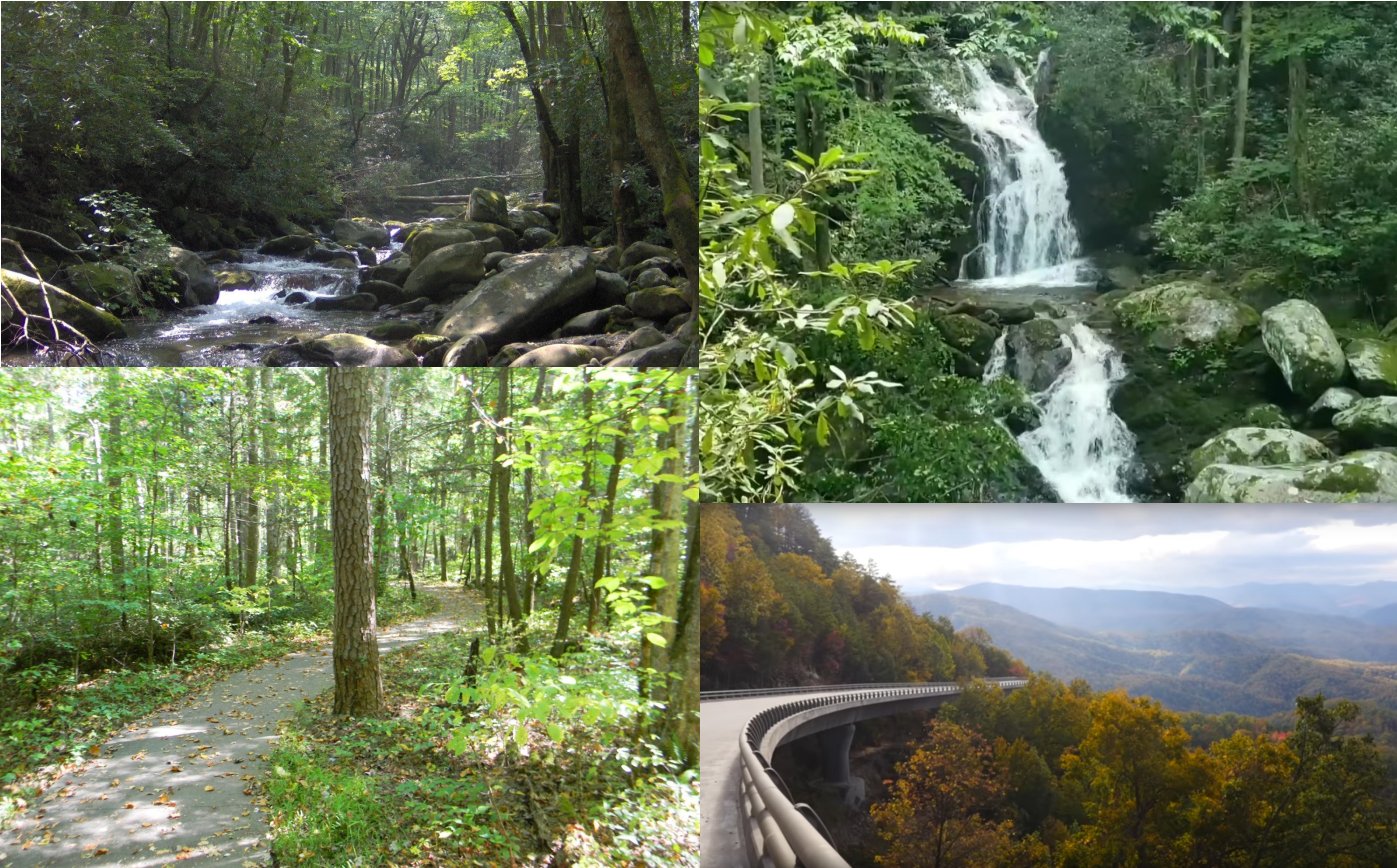 Things to Do in the National Park
There are too many things to do in the park in one visit, so you need guides to all the activities to choose the best for you. We have lots of guides, mostly categorized in the Great Smoky Mountains National Park section, and also in the Outdoor Activities section of our huge Things To Do set of guides and feature stories.
Here you can find out all about fishing, as well as whitewater rafting and tubing the rivers. If you just want to look at the water, and shoot some cool photos, check out our guide to Waterfalls in the National Park. And be sure to note where the park's great Picnic Areas are – many are beside streams.
Scenic Drives And Shortcuts
Just getting around the half million acres of national park and the surrounding area will give you planty to gaze at. For pointers to some of the best routes, check out our guide to Driving in the National Park. Especially notice the wonderful Roaring Fork Motor Nature Trail and the Foothills Parkway.
Avoid the crowds and the traffic. See our guide to Shortcuts and Back Roads in the Gatlinburg and Pigeon Forge vicinity, and for an even wider look at the region see our Getting Around the Smoky Mountains feature.
Nature Trails and Hiking Trails
See our overview of Hiking in the National Park to get started. And for a very special orientation to the park, see our insider breakdown of four very interesting areas:
Some of the more popular attractions in the park include Cades Cove, Clingmans Dome, Laurel Falls, Abrams Falls, Alum Cave and Grotto Falls.
Popular can mean crowded, so be sure to check out our feature pages on some of the less visited waterfalls and scenic spots and browse the whole national park section of our Things To Do guides. If you're looking for a quieter time, many of the less well known places in the park are equally beautiful, especially when mixed with some tranquillity.
And as you're putting your preferences together to get immersed in nature, make sure you know about the very special places that the park rangers have designated as the Nature Trails and also the Quiet Walkways of the park.
Easy (Easy!) Nature Walks and Visits
Half of the nature trails and the quiet walkways are also very easy for most people to manage, with even some that are wheelchair and baby stroller accessible. Not everyone is a seasoned hiker, and many people have small kids and need to stay close to their cars – but if you come to the Smoky Mountains you want to get in nature, and park rangers have done amazing work to make the park accessible for all levels of mobility.
For the best way to get out of the cabin deeper into nature – without breaking a sweat – check out our must-see guide to Easy Walks in the Smoky Mountains.
And get to know about Little River Trail and Little River Road – these are two different places, one made for easy strolling with the family and one made for scenic driving to many scenic attractions.
Finally, note that many of the serious trails are beautiful even around the parking area at the trailhead, and this includes many of the places listed in the Hiking section above – so don't be shy to explore with a visit as far as your comfort takes you and then turn around.
General Tips for the National Park
Be sure to check for road closures – this is the mountains, and weather and other incidents can cause sudden, often short-lasting, closures.
If you're going up the mountain wear layers, take drinking water with you, dry socks and maybe a towel – and a camera! Even in the easy trails, good footwear and trekking poles are a great gift to save fatigue and keep your balance, since there can be many tree roots, rocks, and stream crossings to negotiate.
Always look where your feet are going – there can be snakes – and stay on the trails, both for your comfort and so as not to disturb wildlife. The national park IS a preserve, and with millions of visitors, it takes good park etiquette to keep it undisturbed.
And about those millions of visitors – if you want to avoid crowds go everywhere early in the morning, or in the evening if it's an adventure you can finish before nightfall (unless you're camping or stargazing of course).
This is habitat for wildlife, so no pets are allowed in the national park except in these designated places and on a leash.
And here is how we should behave around the wildlife we encounter. If you feed animals you're killing them, and don't go close, especially to bears. Consider using a camera with a good zoom lens for great shots without disturbing wildlife.
Finally, with so much water in the Smokies, the danger is real of sudden surges of water coming around a curve from higher up, with a strong current. Know your water safety in the park. And don't depend on your cell phone. GPS can be unreliable, so look up the many detailed maps available for free, and jot down directions like the old days, or keep a picture in your phone.
Happy Trails!