November is the month when fall  definitely turns to winter, the fabulous fall colors remain for a week or two, but the season's festivities are looming large, with millions of lights everywhere, live music on the street, gift shopping from the arts & crafts community, winter bluegrass, and snow tubing on the mountain.
Some places are not letting go of the harvest times without a struggle, and Dollywood holds onto fall with 4 more days of its Harvest Festival on November 1-4. Many of the shows bring out their Christmas programs starting on November 1 (Array Variety Show, Dolly Parton's Stampede, Country Tonite Theater and the Hatfield & McCoy Feud). The Titanic Museum opens its Christmas season on November 4.
The lights go on at Skyland Ranch in Sevierville on November 3, beating the rest of the region by a week, in its Festival of Lights, with over 100 displays, a lighted arch walkway and great Smoky Mountain views. Over to the west in Townsend, the popular Grains & Grits Festival happens on Saturday evening, November 4 – and… sorry, we just learned it's already Sold Out this year.
Lights On
On November 9, Gatlinburg and Pigeon Forge turn on their Christmas lights with kickoff festivities for Winter Magic in Gatlinburg and Winterfest in Pigeon Forge. Sevierville follows suit the following day on November 10, lighting up its Winterfest, and making over 15 million holiday lights in stunning displays and animations, spread along a 25-mile extent – and it's game on for the holiday season!
Gatlinburg opens its Winter Magic season with the annual Chili Cook-off on November 9. Long a great attraction on Parkway, from 2023 this favorite event, now in its fourth decade, is now on Airport Road (Historic Nature Trail), and it's ticketed. Lots of different flavors to try, and live music.
Pigeon Forge Winterfest celebrations include the Wonders of Light Christmas Village, with dozens of artisan booths featuring seasonal gift items and foods. this takes place in Patriot Park on November 9-12 and November 17-25. Take the Wonders of Light Walking Trail to immerse in the seasonal spirit and be amazed at the light displays set up along the town's wonderful Riverwalk Greenway.
With all the lights now one everywhere, you can take the self-guided driving tour of some of the best displays using the downloadable pdf guides for Gatlinburg and Pigeon Forge. And from November 9, you can visit the Gatlinburg SkyPark for its Lights Over Gatlinburg season of festivities and superb views. Anakeesta offers its own mountaintop season of fun up above Gatlinburg also, starting on November 10 with its Enchanted Christmas program.
If handmade gift items are on your mind, check out the Heritage Center in Townsend on November 11. This historic town has its own community of master craftspeople and offers much to explore in its annual Handcrafters Fair. On this same day, November 11, Dollywood reinvents itself from the fall look, and kicks off its award-winning Smoky Mountain Christmas program for the winter season. Dollywood offers its own unique world of wonder, with millions of lights, rides, shows, shopping and food and Christmas specialties.
Bluegrass
Bluegrass happens this month, with the annual Bluegrass Christmas in the Smokies Music Festival, at the Gatlinburg Convention Center, November 16-18. As always, the show will be hosted by Lorraine Jordan & Carolina Road, and Lorraine brings in a ton of top bands from across the country for our musical pleasure in this three-day indoor festival. And by the way, that free trolley running all over Gatlinburg also stops right at the festival door.
If you think you've seen all the lights you could imagine for this holiday season, you haven't, until you check out the drive-through, immersive light-show experience of Shadrack's Christmas Wonderland. This famous venue opens its season on November 17 and runs into January – and makes a point of being open on Christmas Day too. Stay warm in the car with all the family and cruise through larger than life displays, stopping for snacks, photo ops and even a visit with Santa. Shadrack's from 2023 has moved from the old location closer in, now at the Soaky Mountain Waterpark, with an expanded route and additional displays.
Keeping the holiday happiness happening, on November 18 the Comedy Barn opens its special Christmas show. One of the best rated shows in the area, and always good family laughter with humor that kids can appreciate too, the Barn is a welcome place to drop in and escape into some belly laughs.
Keep the smiles on, because The Island in Pigeon Forge begins its Christmas also on that day, November 18, with Winterfest At The Island. Never a place to skimp on extravaganza, The Island fires up its own millions of lights, with choreographed displays, a super-lit Christmas tree, and all the fun, shopping, food and excitement of this center – not to mention the 200-foot observation wheel, a light show in its own right.
Snow Tubing
Meanwhile up at the ski area, the fabulous season of snow is coming. Ober Mountain opens its Snow Tubing on November 18. The resort tries every year to give us the tubing run by Thanksgiving, and with the state of the art snowmaking equipment they have up there, they can usually deliver.
Even though the ski slopes proper won't open until December, the resort tries to keep the tubing slope open all the way until Easter, which is just as well because the whole town loves to take a turn on the tube – so be sure to book ahead to get a seat on the slope, this is crucial. Online booking is open already.
Shopping in Gatlinburg and Pigeon Forge is always great, and the winter holiday shopping is no exception. With this in mind, another great Gatlinburg favorite opens up on November 21-26, the Great Smoky Thanksgiving Arts & Crafts Show, where the hundreds of local artisans present their wares for some last-minute gift ideas, with world-class, heirloom-quality handmade art and craft works. Held again at the Gatlinburg Convention Center, this short show spans the Thanksgiving holiday, and right after, the vendors immediately regroup with Christmas offerings in the Christmas Arts & Crafts Show, running November 27-December 3. These two shows, back to back, allow you to travel from Harvest to Christmas all in one great double event, with unique items to gaze at, purchase or commission as custom work from the friendly artisans who are present, working away and demonstrating their craft.
And while all that's going on, outside on Parkway starting on November 24, the players and minstrels of the popular Tunes and Tales come out on weekend evenings with their street theater, music and stories to tell. They'll be dressed the part and gathering small crowds around any corner, so stay tuned for that as you stroll Gatlinburg in this most festive of seasons!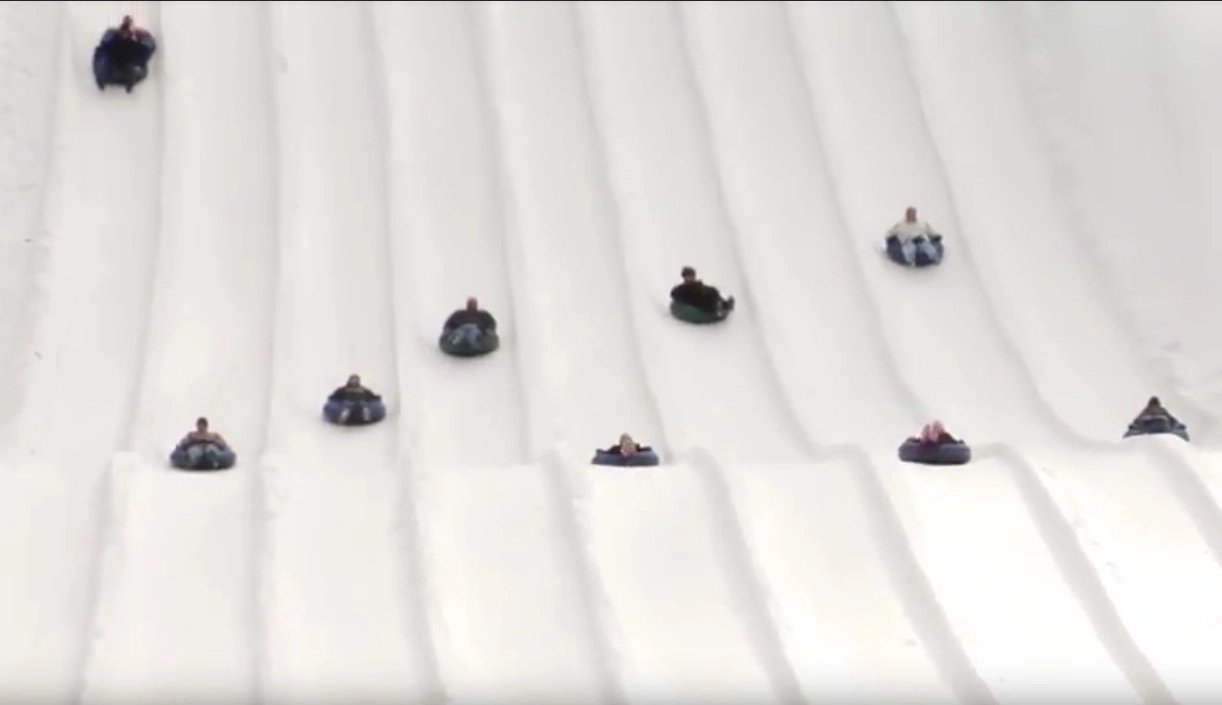 ---
Check our Gatlinburg cabins, Pigeon Forge cabins and our Wears Valley cabins for your best place to stay in the Smokies.