Trapped! Together with your explorer guide, you and your companions must solve the riddles and challenges – or you may never get get out of the ancient tomb.
Get a Free Ticket to The TOMB, plus over $700 in other coupons, when you book a cabin. Call

855 91 SMOKY

.
The TOMB in Pigeon Forge is an interactive experience led by a tour guide, with the challenge to get out of Pharaoh's tomb. You're trapped inside the newly discovered ancient Egyptian tomb, and together with your guide, you and your companions must solve the riddles and ingenious challenges presented – or else be trapped forever!
The good news is that people DO make their way out, and the whole experience takes about 45 minutes. The guide stays in character throughout the visit, and the settings are impressive, with a range of rooms and spaces to traverse and explore. With sensational special effects, both thrilling and chilling, this is a full-immersion adventure.
Be warned that children younger than 7 or 8 may not be able to grasp the riddle challenges, and may easily be frightened by the setting, which includes the Pharaoh's voice, and screams. It's great fun for those kids who understand the game, and who can relate to an Indiana Jones type of adventure.
It takes a group to solve the puzzles, which encourage teamwork and require a range of skills, including musical and logical, as well as several people pushing at one point. Visitors are gathered into groups to start each session, so you may find yourself collaborating with strangers. If you want to stay in your own group be sure to ask for this.
The Tomb is challenging enough to bring a field trip or your home-schooled kids to. It's also situated across the street from MagiQuest, in a highly distinctive pyramid-shaped building that's easy to spot from Parkway, so a family can spend an exciting day in the same area.
Located in Walden's Landing, a pedestrian-friendly development in the heart of Pigeon Forge, with several good restaurants, it's also a perfect place to break the ice or liven up a slow day. Bring your family or group of friends for an instant wake-up and fun experience before or after your meal.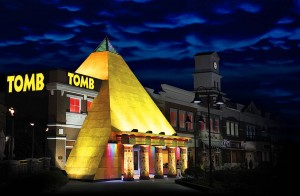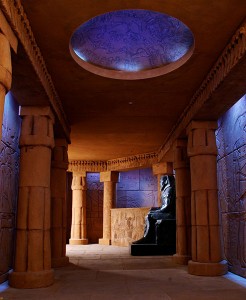 Helpful Information
Location
TOMB™ Family Adventure
2528 Parkway
Pigeon Forge, TN 37863
Traffic Light #2B at Walden's Landing Town Center (look for the pyramid – of course!)