…continued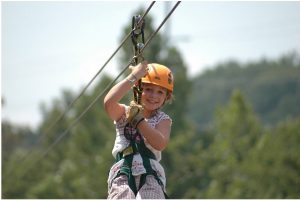 Have you tried ziplining? The Smokies are a great place to do it, for a view of the rolling mountains you can't get any other way. It's lower than a helicopter and higher than horseback, and it's a fine way to see the scenery fly by – although we do the flying. It's totally safe, and the crews at the various venues are trained and certified. Check out our guide to the Smokies Ziplines.
Then there's Whitewater Rafting. There are different classes of rapids and the outfitters will help you select the best one for your comfort and adventure level, even splitting the group into different rides and waters. For the more sedate ride there's also River Tubing, which is totally laid back, fun for small kids and the whole family – a fine way to travel downriver on a lazy summer day. There's no way to stay dry with either of these adventures, and they're both great ways to get wet.
A different kind of tubing happens on the down slope, taking advantage of the mountains. In winter, the snow tubing at Ober Mountain ski area can't be beat, I think the whole town of Gatlinburg heads up the mountain (on the Tramway, or by road) to grab at least one session in winter. And the good news is that in summer the tubing slopes are covered with artificial surfaces that simulate snow slides, so the thrill of the downhill slide remains year round – both at Ober and also in Pigeon Forge at Rowdy Bear Ridge (which now also does outdoor snow tubing in winter, so both towns have slope tubing all year now). And by the way, you can do indoor snow tubing, year-round, at Pigeon Forge Snow: it's real snow, available rain or shine.
Still on the subject of downhill slides and rides there are several great Mountain Coasters in the area, at least half a dozen, in both Gatlinburg and Pigeon Forge. These are a lot of fun for all ages, with controllable speed (or just hang on and go for it!), and a fun thing for couples to do as well as family. One of them is open at night as well, which is enchanting for young and old alike, and a romantic favorite for couples.
What about horseback riding, one of the all-time great outdoor activities? You won't find any indoor versions of this (outside of Dolly Parton's Stampede), at least not yet. The Smokies are a scenic treat even on foot and any horse rider knows the view is always better from a saddle. There are several stables in the area, in some pristine country, so check out our Horseback Riding in the Smokies guide for more information.
I have several friends who love to play golf, and they confirm what everyone says, that the Smoky Mountains are a great place to play – not principally from the scenery (which is fabulous) but mainly from the terrain, which continually changes throughout one course, offering multiple challenges to improve your game. We have 8 different golf courses realistically in our area, and several very close to town (and one with a Free Ticket also!). By and large, all the courses are beautiful and offer a good game. We have an entire separate section devoted to Golf in the Smoky Mountains, describing each of the courses.
I've mentioned some of the great outdoor activities here next door to America's favorite national park, and didn't even mention hiking. Too obvious? Too much to tell, more likely. We have another large section devoted to Great Smoky Mountains National Park where you can find all you need to know about the great Fishing in the park, as well as where the best Waterfalls are, and some of the best hiking trails.
If you check out this section and our Outdoor Activities section, you'll find we've covered all the scenery and natural attractions you could wish for – including the Nature Trails and the Quiet Walkways, as well as many tips on Easy Outdoor Adventures, which families with small kids or elderly will be glad to know about. The national park has gone to great lengths to make the park accessible to everyone, at the same time preserving the pristine back country, and the habitat for the teeming wildlife throughout the park. Be sure to thank a park ranger any chance you get – they're the ones who make this whole area so special.
And finally, remember that practically every roadway in the area is a scenic drive, and some of them are very much in the middle of nature – a great help for those who are physically challenged, or have small kids or pets in the car and can't easily venture out. The good news here is that you can see some great sights by car – check our guides to Driving in the Park and Scenic Drives in the area.
Indoor Activities
When the crew wants some action but the weather says to stay under a roof, there are plenty of indoor attractions to know about in the area, and here are some of the top ones. You could go ice skating indoors up at Ober Mountain in the resort's huge indoor skating rink. I don't skate very well, but I did have fun in the section of the rink set aside for Ice Bumper Cars – everyone can play around in these. And there's shopping and food in the indoor mall too for a little variety.
How about some indoor snow? That's real snow made from water, with the indoor snow tubing runs at Pigeon Forge Snow. America's first indoor snow park offers a comfortable room temperature for sitting to watch the snowball fights over a beverage, and snow comparable to the great outdoors version – year round! And if you're up for more high activity indoors, make a visit to Flyaway Indoor Skydiving in Pigeon Forge – originally the first in the country, a vertical wind tunnel to simulate skydiving and get the body used to the moves.
A little less energetic style of flying is available at two venues in Pigeon Forge, with a similar experience: SkyFly at The Island and FlyRide at BeyondTheLens! Both venues feature a huge curved screen with aerial video, and strap-in theater seats that are stacked vertically in front of the screen. The seats move to sync with the action, and winds and scents are added to the experience as well. It's very well done, quite the trip across America's great scenic landmarks.
Another way to get in out of the weather is to go underground – we have two great caverns to explore in this part of Tennessee, Tuckaleechee and Forbidden Caverns. These places won't be warm, but the atmosphere will be constant (at around 58 degrees F.). Be sure to check before you drive out to either of these that they're open. These are pretty impressive places to visit, and Tuckaleechee especially.
One way to get mountain-high and stay indoors is right in downtown Gatlinburg: the Space Needle. Even with competitive venues like Anakeesta, SkyLift Park and Ober Mountain up above the town, the Space Needle still offers a kick for the 360-degree views from the enclosed observation deck, 400 feet above ground. The elevator up is fun and the complex at the base offers some great entertainment too.
These are some of the special things we thought of that might not occur to you for a rainy day, but of course there's a ton more places under roofs with climate control to keep you comfortable. One of America's best aquariums is right here in Gatlinburg, Ripley's Aquarium of the Smokies. Check out our Attractions & Museums section and our Kids & Family section to see more of the unusual museums, wildlife experiences, black-light mini golf courses, mirror mazes and escape rooms all over town. Not forgetting the indoor Trampoline Park either.
Kids & Family
Gatlinburg and Pigeon Forge are home to hundreds or thousands of kid-friendly attractions, and we've listed some of the most notable ones here in our Kids & Family section. When you're relaxing in your cabin and planning some of the adventures for the coming days, be sure to check out the Museums & Attractions section as well – there are some very cool places there, it's not a dry and dusty experience. And of course there's the national park and nature's own wonders that are an expansive growth experience for kids: children are just as in awe of nature as we adults are, maybe more so, and this area has a LOT of it – check out the Outdoor Activities and the Great Smoky Mountains National Park guides.
Combining the mountains and fun, the three mountaintop resorts above Gatlinburg are places to mark on your adventure map: Ober Mountain, SkyLift Park and Anakeesta. Plenty of adult things to enjoy up in those sites, as well as kids activities, food, music – and the stunning panoramic views. And for more sky-high don't forget the Space Needle in Gatlinburg and the Observation Wheel in Pigeon Forge.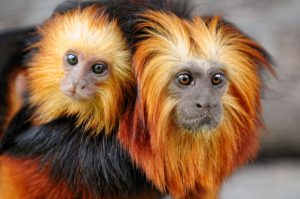 Animals and wildlife are fun for children, and some of the best include the Rainforest Adventure Zoo (wonderful place) and Parrot Mountain (this is a favorite of mine, gorgeous in its own right and in a spectacular setting, especially in the Fall). More furry animals can be found at the Smoky Mountain Deer Farm & Petting Zoo – cute kids getting friendly with cute animals, that's a heartwarming time. And for a special treat, consider a Llama Trek.
If the kids have energy to spare, give them a ropes course challenge. Every kid loves to climb trees, and tree houses and treetop play areas are even better. Take them up the mountain and Mountain Coaster down, or take the tubing slope. How about Zorbing? On a hot day that's a cool down as well as a roll down (and if it's hot out, remember the year-round indoor snow is always available, as well as ice skating).
If it's water fun you're looking for, Dollywood's Splash Country is the premier water park, and there are some more recent additions too that are worth checking out as well – see our guide to Water Fun and also year-round water. And of course, Dollywood itself can take a day to explore all the rides and adventures in that great park. Another good place for kids and adults is The Island over in Pigeon Forge, great for shopping and entertainment but also very friendly for kids, with lots of rides and attractions.
If the kids are bouncing with energy, take them to the Top Jump Trampoline Park (free ticket there), and  join in or just watch as the kids go crazy. And for a more focused and speedier experience, try out the various Go Kart tracks in the area – Pigeon Forge is your place for those. These places have more than just karts, there are arcades and other rides and attractions clustered together too.
For a more sedate time, try some mini-golf. See our guides for the top ones around – these places also have other attractions built in, such as escape rooms, mirror mazes, arcades and black-light adventures. And when everyone's worn out, hit the hot tub back at the cabin to unwind and plan the evening.

Fun for Couples
The Smoky Mountains are a romantic setting, with the rolling mountains and the abundant mists and sifting rains and rainbows in the air, and the sunrises and sunsets that all this produces. It's already the relaxing getaway space perfect for a couple to enjoy each other's company.
Add to this a cozy cabin for two, fully equipped with home comforts, with a swing and hot tub on the covered deck, a heart-shaped Jacuzzi and vertical jetted shower, and everything is fine in this private world in the mountains. And we make it easy with romance packages and wedding packages as well.
The fun of doing things together is almost endless here, with nature all around, and entertainments and attractions everywhere. Choose from solitude in the mountains to mingling with others in bumper boats on the water or ice bumper cars up on the mountain, and everything in between.
If you ever leave the cabin, after nighttime snacks by the fireplace or a lazy breakfast made in your own kitchen, venture outside for a scenic drive, which means anywhere you go in the Smokies. Listen to nature by a waterfall or a quiet walkway. Stroll along an easy trail, in a city park, or a greenway. Go for a picnic in one of the beautiful sites in the national park.
Head to the mountaintop for lunch or live music at Anakeesta, SkyLift Park or Ober Mountain. Here come the selfies, against a backdrop of the lovely mountain views. Take a coaster ride downhill, or the Mountain Coaster in the evening with thousands of lights. For more outdoor adventures, try ziplining, or go horseback riding or play golf together – the outdoor activities are countless.
Love runs on food, and its everywhere in Gatlinburg and Pigeon Forge. Our Dining section will give you lots of fun lunch places to grab a bite, and some great dinner restaurants perfect for date night. Explore the wineries or the moonshine distilleries, or maybe an evening show.
While in town, go for an indoor snowball fight or snow tubing, even in the heat of summer, or when it's rainy outside. More indoor attractions? Explore the unforgettable museums or strap in together for an immersive travelog.
There's just too much to do, and too many ways to have fun in the Gatlinburg area. How will you decide? If it's your first big test of making decisions together, persevere, because the Smokies are one of the country's favorite places to get married, and it's no surprise.
Couples come to get to know each other better, to propose, to get married, to honeymoon and to celebrate anniversaries. Springtime getaways are popular for couples, and enjoying the fall colors are the most favored time of all.
Music, Shows & Nightlife
Gatlinburg and Pigeon are both family-friendly and filled with nightlife, which offers a lot of options for spectacle and cheer during your stay. See our Shows & Nightlife section for the best entertainment in town, and let me walk you through some highlights here.
Music and dance come from the widely acclaimed Country Tonite featuring local and national artists (with also a free ticket from us), and non-stop variety comes from the Smoky Mountain Opry.
Music and magic are on offer at the Grand Majestic Dinner Theater, featuring a dinner served pre-show, and three different shows to choose from, while Memories Theatre specializes in a blast from the past with yesterday's greats.
Dinner shows are a great way to keep the kids happy and chow down on a good meal while the performances happen before your eyes, and sometimes right at your table. Here's our guide to the top Dinner Shows in Pigeon Forge.
For some reason, most of the big theaters have established themselves in Pigeon Forge, which has generally offered more street frontage – Gatlinburg is more dense, a walking town, while the Forge is more of a cruising place (witness the annual Rod Runs that happen there).
All the shows are pretty energized, but probably the most epic is Dolly Parton's Stampede. With a touch of the circus ring about it, the Stampede offers some beautiful horses and horseback showmanship to admire – the kids can visit the stables and get up close too if they want. Rousing entertainment.
Dolly Parton's other venture is a swashbuckling affair, the Pirate's Voyage, another rousing adventure. Paula Deen's Lumberjack Feud is an outdoor show (with another free ticket from us). It has an adventure park as well as the show, and an open-air but climate-controlled pavilion to watch the action, and the venue offers a Supper Show as well.
The Hatfield & McCoy Dinner Show and the Murder Mystery Dinner Show both get closer to the action and laughter with fun immersion in the plots.
Comedy is always good for a laugh, and our guide to the area's Comedy Shows can point the way. The Comedy Barn stands out as really a great venue, with family-friendly comedy that the kids will get too. Magic makes a cool show, and we have several wizards in the area – see our guide to Magic Shows.
One last mention here, for a unique theatrical performance at Buttonwillow Civil War Theater. This is a really compelling view of the Civil War from both sides, a good touch of history for both kids and parents to enjoy.
Scenic Drives & Places
The Smoky Mountains in eastern Tennessee are beautiful, a sight to behold. One very good way to behold these rolling mountains is from one of the great scenic roadways that traverse them.
And although the terrain of the huge national park is glorious to walk through, some people aren't able to get out of the car or to stray far from it, whether disabled, or with young kids or pets. And of the easiest ways to explore these mountains, scenic drives in the park and the surrounding area are the number-one easy way to view the Smokies.
We have the best scenic drives and popular lookout views rounded up for you in our guides to Driving in Great Smoky Mountains National Park and Scenic Drives in the Smokies. This latter one provides links to our many detailed descriptions of the various locations, and also reaches outside of the park to link to some of the roads in the wider area – sometimes you go away from the mountains to get the best view of them.
Inside the park, the Cades Cove Loop is the very most popular drive and you know that means a lot of cars on a little road, so, early in the morning is always the best bet (and actually for anything in the park). Also in that area, learn about Rich Mountain Road as an alternative, and the country just outside the park around Townsend, on the Quiet Side of the Smokies. While you're there, you might quietly explore Upper Tremont road – there's a reason I haven't linked it but we've written it up and you can find it if you explore our pages a little.
Roaring Fork Motor Nature Trail is one of the great nature trails of the park AND it's a one-way loop road for drivers. It's a fabulous achievement by rangers, offering terrain and altitude shifts, and great scenery, all in a short drive out from Gatlinburg. Little River Road takes you from Gatlinburg to the west end discussed above, and it's hugely scenic. Along the way if you want you can cut north to Wears Valley, where drivers from Pigeon Forge on Hwy 321 will pass through, or dip into the park through the least used entrance.
North of the park runs Foothills Parkway, a dream of a road in a great curve east-west (and curving south at the western end) that offers unimpeded views of the mountain ranges. It's a spacious and lengthy drive in its own right, an adventure in itself, I'd say. Do read our guide before you go because the highway is pristine and also without any amenities.
Pulling back to Gatlinburg the big road here is Hwy 441 running south into the park and across the Newfound Gap ridge pass and into North Carolina. There are overlooks along the way, notably Carlos Campbell and Newfound Gap itself, as well as Clingmans Dome which overlooks, actually, everything.
Always remember to check your fuel when driving around in the mountains, and forget about GPS or cell service – they exist but can be scrappy. The phone is good, however, for snapping pictures of map sections to refer to before you set off, or in transit. Remember maps? They still exist and they are very useful around here.
There are smaller roads that lead to quiet beauties and you can get oriented to some of them in our guide to Getting Around, and our indispensable Back Roads & Shortcuts. We've also highlighted some scenic ways to come into Gatlinburg or Pigeon Forge if you fly into the nearby airport, McGhee Tyson and drive the 40 miles to get here. It's also worth orienting to the various special areas in the park, and the Getting Around Guide will link you into those. Plus, I'll talk more about the park highlights themselves in the following section, as we explore all the things you'd like to know about Great Smoky Mountains National Park.
Great Smoky Mountains National Park
Great Smoky Mountains National Park is America's favorite national park – setting new records for visitors each year lately – and it's open year-round with no admission charge. It's half a million acres of forest, flowers, water, wildlife, trails and wonderful scenery – and some enchanting roadways to traverse it all and catch some of that scenery.
It's something to explore, and you're competing with all those visitors to do it, so it's best to know your way around. We have this whole section on Great Smoky Mountains National Park to help you with that very thing. (It's worth checking out the Outdoor Activities section too, where some of the park pages live.)
I love this park, and I'm grateful to everyone who has helped over the years to put together the guides we have for you here. We're trying to save you time, because the park is way bigger than anybody's vacation time. So we're pointing you to the highlights of the park and some of its hidden wonders.
Adventuring out from your cabin doesn't have to be hard. See our guide to Easy Outdoor Adventures for some pretty effortless ways to connect with nature, including in the towns, and also our Easy Walks for the easiest Nature Trails, created lovingly by park rangers to get you into gorgeous places from a short walk, and without breaking a sweat.
You should know about the Nature Trails and the Quiet Walkways of the park, both of which are designed specifically for direct access to some of the most beautiful spots. And you should have a sense of the Special Areas of the Park, and that guide will give you concise descriptions of each one, with links of our fuller feature pages on them. This way you can start to plan specific excursions. And knowing about the Picnic Areas in the Park, in their beautiful settings, will give you a great way to sit for a spell and enjoy a quiet sandwich, or a cookout.
We've put together a guide to the Waterfalls of Great Smoky Mountains National Park for you too. Everyone loves a waterfall, and some are quite spectacular. Some are VERY popular, some are quite easy to get to, while others require quite a trek, and some are a little on the "hidden gem" side of life – but two of them are viewable from the car. Most of them have their own feature pages too that we've created for you, and they're all linked from our guide.
We have a comprehensive overview of Hiking in GSMNP, with links to the many trails we've written up in more detail. Some of the trails are very easy, and we always highlight these especially. People with baby strollers and even wheelchairs can still manage to see some of the park's beauties, and rangers have done some wonderful things to open access to the park to everyone. There are two dog-friendly trails also.
There are over 2,000 miles of flowing water in the national park, so if you do any kind of activity there you may get your feet wet. Carry spare socks and maybe a towel if this is likely. And be very careful around slippery rocks. Also understand how water can surge out of nowhere from around a bend. Nothing in the national park should be taken lightly or carelessly, but especially the water. Having said that, do have fun and check out this guide to all the Cool Water Fun in the Smokies.
Always watch where you put your feet, and don't go off the trail. Trekking poles are a fantastic help on any trail, especially for clambering over tree roots, rocks and sloping trail sections. And never go near any wildlife – especially bears. Nothing in the park is tame. Consider a zoom lens for your camera if you want great pictures without disturbing creatures or endangering yourself and family.
And finally, I forgot that I wrote this brief Guide to Great Smoky Mountains National Park a while back – it's a handy reference to many of the tips here.
Shopping – Where to Shop
There's great shopping to be found in the Gatlinburg and Pigeon Forge area – see our Shopping section for the prominent venues. To cut straight to the chase we've summarized the notable options with our two guides: Best Shopping in Gatlinburg and Best Shopping in Pigeon Forge.
Gatlinburg is home to the largest community of independent artisan in the country, and this whole area is filled with handmade arts & crafts, unique and very high-quality pieces suitable for gifts, heirlooms or one's own home. Crafts and craft festivals are most prominently in Gatlinburg, but quite a few artists over the years sought the greater tranquility of Townsend to live and set up their studio. Townsend is a nice little town, and it's always worth casting your eye west to see what's going on over there.
The big news in Gatlinburg is the Great Smoky Arts & Crafts Community Trail. This is a scenic loop about 8 miles long, with about 100 studios, galleries and shops, with eateries interspersed so no one is famished during a day of browsing. The trolley runs along there too.
The wares on display here embrace every medium you can think of, with old Appalachian heritage frequently mixed in as well. And if you don't make it out on the trail, it comes to us in Gatlinburg with 2 major shows each year with the Craftsmen's Fair, and smaller shows in spring and winter holiday times. These are always fun simply to window shop, and watch the artists at work, chat with an expert or even commission a custom work.
Still in Gatlinburg, the Village Shops are probably the best known collection of shops in town, right on Parkway but nicely secluded when you enter the courtyard. The Village has a nice feel – I've spent time hanging there with a coffee or ice cream, just enjoying the vibe when I go to the Day Hiker. And now of course, Boudicca's Celtic Pub is there too.
Right across the street from the Village is a lesser known outdoor mall called Baskin's Square. This has a nice charm also, and features more offbeat shops and some VERY good food, especially if lunch is calling. I encourage you to hit both places.
One other very notable place along Parkway is the Mountain Mall. This is fully enclosed and climate controlled, with three floors containing all kinds of shops. It's a funky adventure, and great for bad-weather days.
Let's skip over to Pigeon Forge to highlight the major venues there. At the southern end of town, right next to Patriot Park and the hub of the trolley system, is the Old Mill District. Anchored by the working mill wheel dipping into the Little Pigeon River, this area  encompasses a variety of memorable and unique shops as well as the two famous restaurants, all in an easily walkable four-block area.
The Island is one of the great iconic places now in the area, with lots of shops and entertainments for all ages. You could spend significant time here, and your kids would not be bored. As mentioned in our guide, you can actually walk to here along the Riverwalk Greenway from Patriot, or drive up Teaster Lane – or take Parkway and explore the Factory Outlet Mall on the way.
The Tower Shops at Mountain Mile are just across the river, already with some great places, and will develop into a huge place I think over time. It's upscale – REI went in there when it came to town – and worth a look. Further north a little ways you enter Sevierville, and Tanger Outlets, for all the brand names you could desire.
There are several smaller clusters of shops in both Gatlinburg and Pigeon Forge, some of which I really like, and our guides have tried not to miss any. Retail can change quickly, and shops are just about everywhere around here, so you can custom-design your own shopping adventure. Hopefully if you window-shop our feature pages you'll find some goodies you like.
Food – Where to Eat
If you're ever stranded in Gatlinburg or Pigeon Forge, don't worry, you'll never go hungry – but you may go crazy, trying to decide what to eat. There are many hundreds of eateries of all kinds, and food opportunities everywhere you go. Let's try and sort this out a little.
If you want to target food in your favorite town, see our guides to Gatlinburg Food and Pigeon Forge Food, where you'll find thumbnail descriptions of most of the places we have listed in the Dining section.
And in that Dining section, we've gathered some of our favorite restaurants, sandwich shops and breakfast places, as well as meat, seafood, natural foods, brewery, distillery and wine establishments. We include also some specialized offerings (crepes and the Celtic pub being my two personal favorites).
I guess we should start with breakfast, and move through lunch and dinner. But remember, most places are great for meals at other times of day – and many do breakfast and lunch while others do lunch and dinner – so do take a look at their full offerings.
Breakfast
Crockett's Breakfast Camp in Gatlinburg will set you up for the day with a memorable experience. It's historic but it's also completely today, with real people and hearty food. It's very popular but you can get in and it's worth trying. Don't ignore The Atrium either, it's fabulous, with amazing pancakes if that's your thing, and hugely tasty, savory plates of breakfast – and also vegan friendly.
The Old Mill District in Pigeon Forge is a visit in its own right and if you're there for breakfast, the Old Mill Restaurant reminds you why it's the most satisfying meal of the day. Walk it all off afterwards exploring the whole District. And of course many of the restaurants mentioned for lunch also do a great breakfast.
 Lunch
This is the section that gets big. If you're looking for barbecue, you're in luck, with that magic meat everywhere, but especially at Delauder's BBQ, an award-winning restaurant. This restaurant has always been hard to find and it's a hidden gem you should seek out for, literally, some of the best BBQ in America.
Tennessee Jed's does sandwiches beyond perfect – read our write-up to see why you should find them. Fannie Farkles is a Parkway attraction with the best hot dogs in America, according to Chicago people, who would know.
Hamburgers are everywhere, and you can find them at Smith & Son in Gatlinburg, and Guy Fieri's Downtown Flavortown in Pigeon Forge, as well as one or two (hundred) other places. Don't ignore Boudicca's Celtic Pub, for people like me who lean to the old world when it comes to beer and burgers. Also for a locals favorite, find Split Rail Eats for very good food. Three of these places have been awarded in the annual GatlinBURGER Week – a contest that will show you some very good kitchens.
Mel's Classic Diner in Pigeon Forge is as fun as it sounds, and Huck Finn's Catfish will fill you up with goodness. Smokies Cuban Cafe offers a Caribbean treat that many love (I do). And don't miss Local Goat, one of my favorites for fish and chips – the menu is very wide ranging, with lots of meats and seafood, and the kitchen has a way with flavorings that make some of the meals absolutely unique.
Back in Gatlinburg, New Orleans Sandwich Company offers Cajun and Creole, and Smoky Mountain Trout House cooks up the local famous fish to perfection (great cheeseburger too, and really good steaks).
For some fine Italian meals as well as pizza, try Taste of Italy and also Best Italian Cafe & Pizzaria – both are superb restaurants, locals favorites, more hidden gems to discover. If you want pizza, there are countless places, and I know better than to try to claim which is the best!
I should make a special mention of the Johnson Family of Restaurants, in both towns, with steaks, burgers, BBQ, pizza, home cooking – and handmade ice cream. Johnson restaurants always mean fresh ingredients and excellent food in all establishments – you can't go wrong.
And in Pigeon Forge, Applewood Farmhouse offers two restaurants with everything you could wish for, as well as shopping, wine, cider, ice cream and candy – the full range of treats, like so many places in the area.
And for a taste treat that's very rare in America, in Gatlinburg you can find me sometimes over a crepe at Smoky Mountains Creperie. This offers that lovely street food from Paris, made true to the type but also with some American twists. I can call it a late breakfast to go, a lunchtime savory meal or an afternoon/evening treat over coffee – great place.
Speaking of Ice Cream, check that link for our cheat sheet of some of the best places in the area for this fine food that we all must sometimes have. And now with apologies to everyone I missed – including the very fine Wild Plum Tea Room and the all-natural Whole Earth Grocery – it's on to dinner.
Dinner
Let's start with seafood and probably the top operation is Chesapeake's Seafood and Raw Bar – the food is flown in daily from the 3 coasts and is on a par with anything found on those coasts. Great bar, well designed space, and the steak is excellent too. Over in Pigeon Forge, Harpoon Harry's Crab House absolutely delivers the goods, with food sourced fresh from its Florida partner, and it also does great sushi, which is quite rare around here.
There are several excellent steakhouses around (and plenty of restaurants offering a great steak too). Of note are The Peddler for a high end special occasion, the Cherokee Grill which also has great seafood, and the Alamo Steakhouse (from the Johnson Family), which is often called the best.
The Greenbrier Restaurant in Gatlinburg offers superb fine dining with steaks, chops and seafood, while Gaucho Urbano in Pigeon Forge is a Brazilian steakhouse serving churasco-style – a great place for date night or celebration. The Park Grill is sister to the Peddler and has great atmosphere to add to its steak and seafood, with an imaginative, accomplished kitchen. And the location can't be beat, at the entrance to the national park.
Other places of note that I could have listed in the lunch section as well include several breweries – lots of craft beers in both towns – of which I should mention Smoky Mountain Brewery, a sports bar but family friendly and with lots of very tasty dishes. There's one in each town, both next to Calhoun's smoked meats for the darker flavors.
There are several wineries in the area, and some fun distilleries making moonshine. It's now legal in Tennessee, after a certain earlier period (the stuff of legend) when it wasn't. The distilleries – such as Ole Smoky and Sugarlands, and others – offer tasty food, multiple tastings, often live music, and friendly good times.
One I should mention for its splendid kitchen is relatively new, Junction 35 Spirits, with a range of distilled spirits including moonshine, and fabulous food that makes it worth going to purely to eat – it has a great kitchen. This is in the same center as Downtown Flavortown, which is massively kid-friendly, but some of the adults may want to slip over to Junction 35 for a change of beverage – but you can bring the kids too, it's family friendly AND it's dog friendly.
What's Free?
Vacationing in a popular area such as Gatlinburg can be a little costly, especially with a family to keep engaged. There are some things here that are free, including the cabin living, once you're in it and having fun. You can't really hang out in a hotel room for days, but you sure can in a cabin.
I've always thought the amenities in the cabins, and the settings, mean you could just hang out there for several days without getting cabin fever. I've always enjoyed the cabin life just for its own sake. Personally I could sit in a rocker with a book or laze in the hot tub and look at the mountains or the birds in the trees and call it a good time. I know families save a lot of money on meals and plan their adventures accordingly.
And the Cabin Specials are frequently astonishing to me, when a Half Price  weekend getaway special presents itself, for example. I know that people in Knoxville and the surrounding area are always watching the specials for a sojourn in the mountains because the deal is just so good.
And when you want to explore the attractions in the area, our Trip Cash and Xplorie Free Tickets are a truly excellent giveaway – check out all the places you could get a free ticket for.
What else is free? Well, the Gatlinburg Trolley is free now all over town. And when it connects with the pay system in Pigeon Forge, the charges are still so small by today's costs that it feels practically free. And if you choose your times and destinations it's a fun ride. Check out all the Gatlinburg places you could visit by trolley with this interactive map.
Tunes & Tales along Parkway in Gatlinburg is a free shot of live music and entertainment. You can just sit on a bench and enjoy it at no cost. And the city parks of both towns are really excellent places to stroll along the river, walk the dog or play on the swings. Pigeon Forge's Community Center is not free but the prices for the pool and fitness facilities are way lower than the commercial venues.
Great Smoky Mountains National Park is always free, and this can never change because the condition was covenanted into some of the land donated for the park. And you don't have to be a fitness buff or a hiker to enjoy the park, with so much access by vehicle available, and great scenic drives – and the jewel in the crown to me of a freebie in the park is Roaring Fork Motor Nature Trail.
You don't exclusively need a car either, if you like to walk. The trolley used to go to Sugarlands Visitor Center – no more, but it will get you to the trailhead of the Gatlinburg Trail, which is made for walking, and it's bike and dog friendly. By the way, the Visitor Centers in the park are another excellent free amenity, very well done and not at all boring.
And right by Sugarlands is one of our easiest, easy trails, leading to a waterfall no less, Cataract Falls, and that little trail is even accessible with a baby stroller. And after that, there's half a million more acres of free adventure throughout the rest of the park.